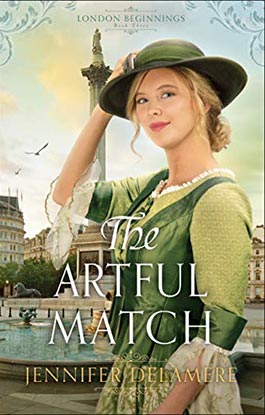 Victorian London Comes to Life in the London Beginnings Series
Cara Bernay has never found a place to fit in or to thrive. At loose ends in London after a near-tragedy costs her a job, Cara befriends a rising young artist. With his help, she begins planning a new life and developing her own artistic talent. But soon Cara finds herself at odds with the artist's brother—a handsome but serious-minded earl who wants to force his brother back to a "respectable" life.
Henry Burke, the Earl of Morestowe, feels the weight of growing financial burdens. His profligate and emotionally unstable brother is making matters worse, and Henry needs him back home. Despite misgivings about Cara's mysterious background, Henry sees she's a positive influence on his brother and on Henry's unruly young ward, and he strikes a deal with her to return with them to their estate.
But the family has their own secrets, and when Cara, drawn ever closer to Henry, stumbles onto the truth, she must choose between following her heart and pursuing a bold plan that could bring disaster.
Read More about The Artful Match
Tales of the Past . . . and New Beginnings
Welcome! If you enjoy inspiring stories filled with history and romance, you're in the right place. My books are set in Victorian England, a fascinating time and place, when new inventions and opportunities were greatly changing the world as people knew it. I wrote more about this setting on my Extras page. You'll always get a taste of actual historical events in my novels—not to mention the occasional "cameo" appearance from famous people of the time.
Love is always a grand adventure, and I hope you will find my books entertaining, exciting, and inspiring.
Jennifer Delamere