Available Now!
Line by Line
Book 1 in the Love Along the Wires series
Since she was young, Alice McNeil has seen success as a telegrapher as the best use for her keen and curious mind. Years later, she has yet to regret her freedom and foregoing love and marriage, especially when she acquires a coveted position at an important trading firm. But when the company's ambitious junior director returns to London, things begin to change in ways Alice could never have imagined.
For Douglas Shaw, years of hard work and ingenuity enabled him to escape a life of grinding poverty. He's also determined to marry into high society—a step that will ensure he never returns to the conditions of his past.
He immediately earns Alice's respect by judging her based on her skills and not her gender, and a fast camaraderie forms. However, when Alice accidentally angers a jealous coworker and his revenge threatens both their reputations, Alice and Douglas are forced to confront what is truly important in their lives. Will their growing bond give them the courage to see the future in a different light?
---
Victorian London Comes to Life in the London Beginnings Series
The Captain's Daughter
The author puts her passion for Gilbert and Sullivan operettas into her behind-the-scenes theater descriptions and uses her knowledge to build the situations through which Nate and Rosalyn learn about God, life, and love." --All About Romance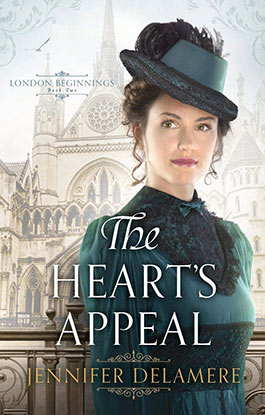 The Heart's Appeal
The historical medical details Delamere provides add a fascinating overlay to the romance between dynamic, intelligent characters. –Booklist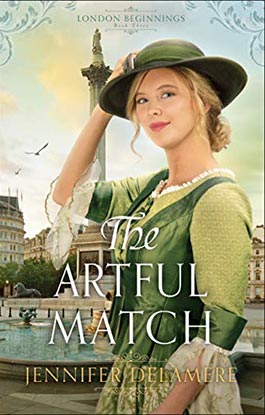 The Artful Match
"Delamere crafts a very appealing cast in this unique historical romance… Readers will love this wrap-up to Delamere's excellent London Beginnings trilogy." --Booklist
---
Tales of the Past ...
and New Beginnings
Welcome! If you enjoy inspiring stories filled with history and romance, you're in the right place. My books are set in Victorian England, a fascinating time and place, when new inventions and opportunities were greatly changing the world as people knew it. I wrote more about this setting on my Extras page. You'll always get a taste of actual historical events in my novels—not to mention the occasional "cameo" appearance from famous people of the time.
Love is always a grand adventure, and I hope you will find my books entertaining, exciting, and inspiring.
Jennifer Delamere
LATEST NEWS
06-14-20 - New Book Release June 30!
Line By Line, the first book in the Love Along the Wires series, releases on June 30!
01-19-20 - Upcoming Conference for Writers in North Carolina
On Saturday, February 15, 2020, I'll be taking part in a panel on writing romance at the Carolina Book & Writer Conference in Raleigh, NC. More details about the conference can be found at the conference website. If you'd like to attend the conference, use conference code DELAMERE when you register for half-price admission ($75).... View Article
11-04-19 - New series coming in 2020
Coming up in 2020: A new series, called Love Along the Wires, about telegraphers in Victorian London. Did you know that telegraphy was one of the first occupations where women were basically on par with men, working right alongside them? In the nineteenth century and into the twentieth, countless women made a good living in... View Article
06-24-19 - Author Tea on July 28, 2019
Join me, Deb Marlowe, and Glenn Meganck at the Wake County West Regional Library in Cary, North Carolina for a lively conversation about books and writing. Tea and cookies will be provided. Bring your favorite tea cup! More details below and in the side bar.