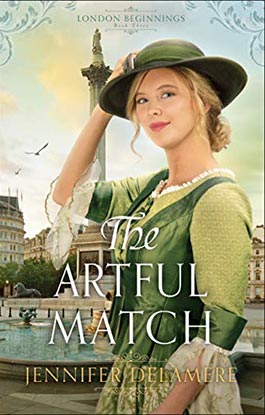 "Delamere crafts a very appealing cast in this unique historical romance… Readers will love this wrap-up to Delamere's excellent London Beginnings trilogy."
Booklist
Victorian London Comes to Life in the London Beginnings Series
Cara Bernay has never found a place to fit in or to thrive. At loose ends in London after a near-tragedy costs her a job, Cara befriends a rising young artist. With his help, she begins planning a new life and developing her own artistic talent. But soon Cara finds herself at odds with the artist's brother—a handsome but serious-minded earl who wants to force his brother back to a "respectable" life.
Henry Burke, the Earl of Morestowe, feels the weight of growing financial burdens. His profligate and emotionally unstable brother is making matters worse, and Henry needs him back home. Despite misgivings about Cara's mysterious background, Henry sees she's a positive influence on his brother and on Henry's unruly young ward, and he strikes a deal with her to return with them to their estate.
But the family has their own secrets, and when Cara, drawn ever closer to Henry, stumbles onto the truth, she must choose between following her heart and pursuing a bold plan that could bring disaster.
Read More about The Artful Match
Tales of the Past . . . and New Beginnings
Welcome! If you enjoy inspiring stories filled with history and romance, you're in the right place. My books are set in Victorian England, a fascinating time and place, when new inventions and opportunities were greatly changing the world as people knew it. I wrote more about this setting on my Extras page. You'll always get a taste of actual historical events in my novels—not to mention the occasional "cameo" appearance from famous people of the time.
Love is always a grand adventure, and I hope you will find my books entertaining, exciting, and inspiring.
Jennifer Delamere
LATEST NEWS
11-04-19 - New series coming in 2020
Coming up in 2020: A new series, called Love Along the Wires, about telegraphers in Victorian London. Did you know that telegraphy was one of the first occupations where women were basically on par with men, working right alongside them? In the nineteenth century and into the twentieth, countless women made a good living in... View Article
06-24-19 - Author Tea on July 28, 2019
Join me, Deb Marlowe, and Glenn Meganck at the Wake County West Regional Library in Cary, North Carolina for a lively conversation about books and writing. Tea and cookies will be provided. Bring your favorite tea cup! More details below and in the side bar.
05-24-19 - Reader Festival Coming Soon to the Washington, DC Area!
Every two years, the Historical Novel Society, a wonderful organization comprised of novelists and readers, holds their annual conference in the United States. At this year's conference, they've added a new event, open to the public. It's the Reader Festival, which will take place on Saturday afternoon, June 22, 2019, at the Gaylord Resort and... View Article
05-01-19 - Speaking in Raleigh, NC on May 19
On May 19, I'll be a part of this author panel at the North Regional Library in Raleigh, NC, to talk about paths to publication and answering your questions. Hope you can join us!